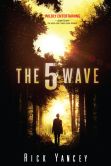 In the very near future, Cassie is fighting to survive in the midst of an alien attack on Earth. But it's not spaceships and laser guns threatening the human race, but instead a world-ravaging plague, epic killer tsunami's and creepy silencers, embedded in human bodies, who hunt down and exterminate surviving humans like vermin. Cassie has one rule: don't trust anyone. Since the aliens look just like humans – heck, they're just aliens shoved into human bodies, she can't be sure who is her enemy, and who is her friend. This makes finding her little brother all the more difficult. With her parents gone and her brother kidnapped by the terrifying human-like aliens, Cassie shoots on site. That is, until she's rescued by dreamy Evan Walker. He's smart, quiet, and falling madly in love with plain ol' Cassie. He'd do anything for her. It's every girls dream, right?
But is it too good to be true? Can she trust Evan to help keep her safe, and find her little brother? And where does Evan go each night while she sleeps? Cassie can't leave well enough alone, and will question the very core of her understanding of humanity in the process.
This is a great book for fans of THE WALKING DEAD, with similar survival in the face of adversity themes and setting. Fans of THE MAZE RUNNER and LEGEND will like this as well. The writing is absolutely superb. Yancey nails the voice of Cassie and the other teenagers, page after page. The pacing is thriller-like, pulling the reader through exciting and harrowing scenes, one after another. You won't be able to put the book down until you've read the very last, thrilling page. I read it in a day and a half!
Pick up your copy today, because THE INFINITE SEA, book two in the series, came out last week! Seriously, guys, this series is so good. I can't believe it's taken me so long to read it! Plus, THE FIFTH WAVE is being made into a movie in 2016, and you'll want to already know all about it beforehand. I absolutely cannot wait!