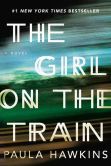 The Girl on the Train is the debut novel of journalist Paula Hawkins.
Rachel loves the train. She rides it each day on her way in to London at the exact same time, and takes it back out again like clockwork. What she loves most about her morning trip, though, is the sneak peek she gets into the lives of those in trackside house number 15. He's handsome, she's beautiful, and they are enormously happy. At least, that's the story she's made up about them in her head complete with imagined names and personal quirks. And since everything in her life is spinning out of control, Rachel relishes their normalness.
Until one morning in the train, she sees the trackside woman with another man. A man who is most definitely not her husband. When it is revealed a few days later that the trackside woman of number 15 is missing, Rachel begins an investigation into the perfect lives of people she's never even met.
Following Rachel down the rabbit hole, we learn about her tangled history with the train, London, her ex-husband and the very house that she has eyed each morning for the past year. Is Rachel herself telling the truth? Who are these people, really, and what connection does she have with them?
And did she have anything to do with the woman's disappearance?
This is an adult psychological thriller in the vein of Gone Girl. A fantastic book that I literally could not stop reading! Hawkins flips us back and forth between narrators and timelines, keeping the reader on their toes. What happened to the woman? Who really is Rachel, if not just another girl on the train? You'll be guessing until the twisty end! I absolutely loved it, and highly recommend it! This is adult fiction, so not for younger readers, but I think that it's a beautifully done novel that anyone would enjoy.