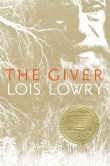 Long before dystopic fiction was popular, before THE HUNGER GAMES and DIVERGENT, way back in the nineties, Lois Lowry wrote THE GIVER. You might have read it in school, or you might have heard of it due to the recent movie release. Either way, now is as great a time as any to pick up your own fresh copy of this dystopic classic.
Jonas' life is perfect. He has two attentive parents, a shiny bike just like everyone his own age, and a safe community to live in. What more could anyone ask for? But Jonas is almost twelve, and he's starting to worry. He sees flashes of something different when he looks at apples or crowds of people. And when he's chosen as the Receiver for his community, it becomes apparent why. He can see beyond,  which makes him a perfect vessel for all of the world's memories. As the Giver teaches him the lost memories of humanity, his own world becomes a colorful tableau that he never recognized before. The sky is blue, grass is green and his friend Fiona's hair is a beautiful shade of red. His new memories show him sunshine, sled rides and family love, as well as war and hunger and isolation. These memories are too much for the world too bear, and so he alone must take them all – the good and the bad. Without these memories of choices, the world is a safer place, and he must do his part to keep it that way. But when he discovers the terrible price his community pays for their tepid peace, he can take no more. Jonas will attempt to save the life of someone he loves. Can the memories of humanity help him survive, or was the community right to forget them?
THE GIVER is a fantastic, short read that is great for ages twelve and up.