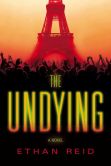 Best friends Jeanie and Ben arrive in Paris ready to drunkenly party away New Years Eve with their chic French friends. And what better place for Jeanie to forget her depression over her father's recent death to cancer than the City of Light?
New Years day brings a cataclysmic reckoning – Paris is in darkness, and giant rocks fall from the sky, destroying buildings and killing everyone nearby. Was it a terrorist attack? A meteor hailing death and destruction? Amid the chaos, Jeanie and her friends attempt to escape the burning, ravaged Latin Quarter to safety. But strange, vampire-like zombies roam the streets, entrancing Jeanie with their magnetic glares. Kill, they telepathically call to her. And if that isn't terrifying enough, Jeanie rescues a tiny newborn boy and vows to keep him safe.
Can Jeanie and her friends survive the apocalyptic firestorm from the sky while outrunning les moribund, who threaten to take over their minds – or worse – rip out their throats? Will she be able to outrun the terror and keep herself and the baby alive?
This gripping, terrifying thriller is an awesome choice for fans of THE WALKING DEAD and THE FIFTH WAVE. Crazy-scary zombies, sympathetic babies and a heroine that cannot be kept down, this book will have you biting your fingernails down to bloody nubs. I was terrified!
And if that wasn't enough to get you to buy it, notice the fantastic price point: $4.99. I mean seriously, you can't go wrong. Download it now!