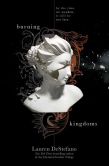 Burning Kingdoms is the second book in the Internment Chronicles by Lauren DeStefano. You can read my review of Perfect Ruin here and find out how awesome this series is! No lies, start it today! But, I will warn you – don't read on if you don't want any spoilers!
Morgan and her squad of friends and frenemies are back. They've made it out of Internment, the utopic floating island in the sky. But the Earth below isn't how they thought it would be. In some ways, it's fascinating. Water called rain falls from the sky, people own homes bigger than office buildings, and people can marry whomever they want.
But there is also war. Terrifying war that threatens the haven they've found and demolishes whole cities. Morgan and Pen creep over their new surroundings, learning everything they can about this new place. We see this world, so like our own world, through their new eyes. It's charming and dangerous and very exciting. Then the bombs hit too close to home, and everything turns more dangerous than they ever imagined.
Throw in a dash of forbidden romance and unexpected attractions, and you've got a potent mix of drama from all angles. This is a fascinating, unique low-fantasy that will entrance readers of romance and genre fiction alike.