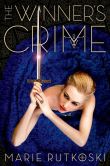 Kestrel is back in this exciting new book, The Winner's Crime. This is the second book in the Winner's Series Trilogy by Marie Rutkoski. See my review of book one, The Winner's Curse. I won't say too much in this review, because I don't want to give away spoilers from book one.
I suppose, however, I can say Kestrel and Arin are back. Kestrel has sworn to marry the prince, and someday will become Queen of all of Valoria. But Arin is just on the periphery, tugging at her heatstrings and distracting her from her promise. What secrets lay hidden in the magnificent palace? What does the King have planned for Arin and the rest of the Herrani? Kestrel will become a spy, risking everything she loves and her very life to find out the truth.
This exciting second book is just as good as the first. Rutkoski is a powerful writer, weaving beautiful prose with sometimes harsh and horrifying imagery. We long for Kestrel to get what we know she really wants – Arin. But we're scared of what might happen if she does! I'm utterly engrossed in this series. It's romantic, intriguing and paced like a thriller. Right up my alley! So start the series today! You won't regret it.