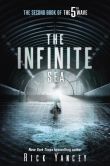 Cassie, Ben, Ringer and the rest of the crew are back in Rick Yancey's second book of The 5th Wave Series. If you haven't read The 5th Wave, you are missing out. Do it. Now.
NOW.
Okay. Good. I was worried you weren't listening.
Yancey weaves an intricate and emotional tale of survival in the age of alien invasions. It's a beautiful account of Cassie's survival and attempt to rescue her kid brother, Sammy. When she falls in love along the way, she'll question everything she knows about the very essence of what makes us human. In this second installment, we learn the fate of her heart-throb Evan and what the aliens have in store for the few unlucky humans who have survived the invasion. Will Cassie and Ben survive the horrific next wave of confrontation? Will Evan return to Cassie, as he promised?
Yancey is a master of voice, and each first-person segment sings with gut-wrenching accuracy. Readers are pulled down into the trenches with the kid soldiers, eeking out survival. You'll pull your hair out in frustration, hoping that your favorite character will survive! Yancey's mastery of thrilling storytelling will have you reading until you turn that final page – I promise!
Read the review of The 5th Wave here. It's the best book I've read so far this year! If you love post-apocalyptic thrillers or The Walking Dead, you will absolutely love this series!