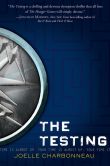 The Testing, by Joelle Charbonneau, is a fascinating dystopian adventure. And the best part of coming late to this party is the whole series is already out. No waiting for the next installment with bloody nubs for fingernails! Woot! If you liked The Hunger Games and Divergent, you'll love The Testing.
Malencia is sixteen years old and fresh out of school. She's smart, resourceful, and ready to take on the world and help any way she can. But only the best of the best are selected for the testing, and only a select few pass and move on to the University. There, Cia will learn what it takes to help their nation piece humanity back together.
So when she's chosen, she's thrilled. Over the moon. Ecstatic. That is, until her father, a former testing candidate, admits his darkest fears. He has no memory of the testing – his memory was wiped. But strange nightmares haunt him. Death, destruction, mutilation and worse play at the edge of his memories. He warns her to trust no one, just in case his nightmares were very real.
But why would the government harm their best and brightest?
Of course the testing is nothing like what she imagined. She's lucky enough to travel to Tosu city with a few kids from back home, as well as distractingly attractive Thomas. And as they dive into the first days of testing, Cia realizes that her father was right. She and Thomas plow through challenge after challenge, watching other kids fail or die. How far will the testing committee go? What happens to the candidates who disappear after failing a test?
Will Cia and Thomas survive?
This is an exciting and well-written book that will keep you turning those darn pages late into the night. I loved how resourceful Cia was, including mechanical intelligence. That's not a skill many heroines have! Her burgeoning romance with Thomas is sweet and helps drive along the story, especially when twists near the end question everything she thinks she knows about the candidates from back home. Will Cia make it through the testing? What will she be willing to do to make it out alive?
I'm so excited to dive right into book two, and love that I don't have to wait for the series to finish! Pick it up today!